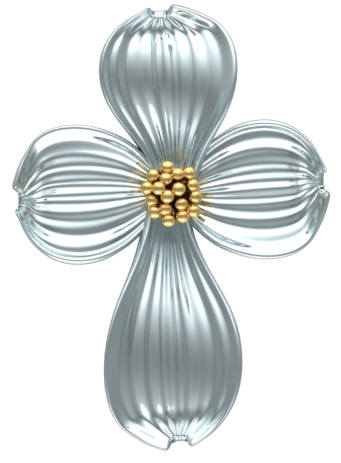 Dogwood Flower Cross Pendant - Style #117-326 (Click Style # For Pricing)
This exquisite sterling silver cross pendant draws inspiration from the beauty of the Dogwood Flower. Its fine craftsmanship, wonderfully sculpted flower petals, and rich symbolic meaning, all come together to form a captivating pendant that is sure to impress anyone who sees it.
Wearing jewelry that has actual meaning makes it more than just a decorative piece. This particular pendant, representing the Dogwood Flower that forms a cross, and having ties to the crucifixion, is a symbol of Christianity, making it a wonderful declaration of faith. The actual Dogwood Tree represents rebirth, resurrection, durability, strength, resilience, and purity. These inspiring characteristics are what make this pendant a stunning and unique piece.
Davidas Design Concepts offers the Dogwood Flower Cross Pendant in sterling silver, but if you prefer another precious metal such as gold, or if white gold or rose gold are your colors of choice, we can certainly create the pendant that you are envisioning. In addition to this, no matter what your choice, you have the option of having the center flower bud a contrasting color of yellow or rose gold, which is meant to signify the blood of Jesus. The large pendant is 1 inch in height and 1.4 inches wide, and the small pendant is .75 inches tall and .5 inches wide the ideal size for displaying on a necklace. If you are in need of a chain to make this pendant complete, we would be happy to provide you with one.
The Dogwood Cross Pendant would be fitting as a first communion, baptism, or confirmation gift, as well as a Christmas or Easter present. If you have someone special in your life, it makes for a wonderful expression of love or admiration. We provide a decorative box that will make presenting this pendant as a gift even easier. Whether you are interested in this fine piece of jewelry for yourself, or as a gift, it will certainly bring meaning and beauty to anyone who wears it. The Dogwood Cross Pendant is truly a work of art.
| | |
| --- | --- |
| Click Picture For More Detail | Click Here For Pricing |
Sizes Available:
Large (1 inch tall X 1.4 inches wide)
Small (.75 inches tall X .5 inch wide)
Available Metals:
Silver
Gold
Platinum
Available Karats:
10K - 14K - 18K
Silver - Platinum
Karat Plated (Can be gold plated over silver)